ABC Sports
Lindy Hopping and Figure Skating
---
On October 16th, 1998, ABC Sports covered the Figure Skating Championships in San Jose, California. Someone at ABC decided that the commercial segues should be Swing dancing. I was part of a crew of about 20 swing dancers (mostly from Rob and Diane's swing troupe that I actually briefly joined later) that they filmed.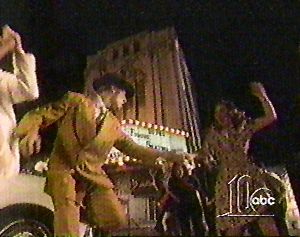 Televised: Saturday, October 24, 1998
We danced outside a beautiful old movie theater right next to Peggy Fleming's old Bentley. The skaters actually came out and danced with us for some of the scenes, and many of them picked it up extremely fast. I showed up in the forefront of the actual segues for a grand total of maybe 3 seconds. I wore my golden zoot suit which I have mostly retired in my closet. There's only so many times that I can dress up like cartoon characters :)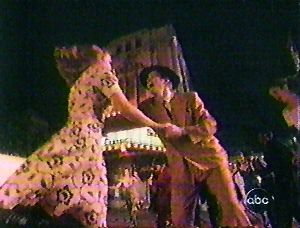 Televised: Thursday, October 22, 1998
Thanks to Kim Yasuda for getting the images (via her Uncle Tom Webster).